In September of 2020 the Sheriff's Office purchased K-9 "Hunter" using the departments seized drug proceeds. Hunter is a 2 year old Belgian Malinois from Holland and is assigned to his handler Deputy Levi Walton. Deputy Walton and Hunter are trained and certified in narcotics recognition, tracking and apprehension. Deputy Walton and Hunter are assigned to patrol and assist several police departments in McDonough and the surrounding counties.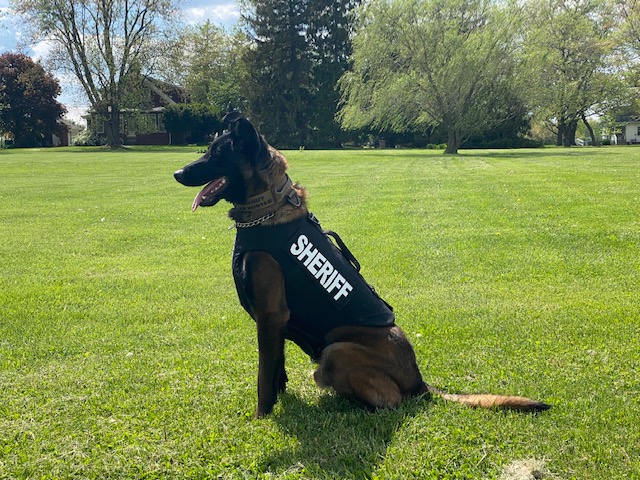 Sheriff VanBrooker announces the addition of Bloodhound "Daisy" to the Sheriff's Office. Daisy was purchased in July of 2015 with a donation from the Macomb Elks Lodge and paired with Deputy Rowland. Deputy Rowland and Daisy recently completed training and certification by the National Police Bloodhound Association in the field of human trailing. Rowland is a retired Master Sgt. with the Illinois State Police. The pair will assist the Sheriff's Office and surrounding agencies in tracking criminals and missing persons.
The McDonough County Sheriff's Office is responsible for patrolling all unincorporated towns and rural areas of McDonough County. McDonough County is approximately 580 square miles total. The majority of the department's deputies are responsible for patrol. The McDonough County Sheriff's Office has five deputies assigned to night patrol operations. Each deputy is responsible for handling both non-emergency and emergency calls for service. Our patrol division utilizes both marked and unmarked patrol cars.
The McDonough County Sheriff's Office Investigations Division is a fully-operational detectives division, dedicated to solving crimes of a complex nature. It is staffed with a Lieutenant and two detectives, who have over 50 years of combined policing/investigative experience. The division handles general criminal investigations (death investigations, sexual abuse and sexual assaults, burglaries, criminal damage, juvenile crimes, domestic violence, financial crimes) and narcotics investigations. One of the county detectives is the primary narcotics investigator, who regularly works and liaisons with the Macomb/McDonough County Drug Unit; this task force is staffed with investigators from the McDonough County Sheriff's Office and the Macomb Police Department. McDonough County detectives are trained in basic and advanced interview and interrogation techniques, lead homicide certified through the State of Illinois and nationally, and are abreast with innovative crime scene/evidence collection techniques. Detectives work eight hour shifts and are regularly deployed after business hours to investigate crime within McDonough County, IL. Detectives maintain robust relationships with the Illinois State Police, neighboring county, municipal and university police agencies, as criminal activity regularly overlaps into several jurisdictions.
Strategic Response Team (S.R.T.)
SRT is a multi-agency response team. SRT is equipped and trained to execute high risk fugitive warrants and narcotic warrants.
Since its inception the Macomb/McDonough County Strategic Response Team (SRT) has participated in over 40 operations. The majority of the operations were narcotic warrants. A small portion of the operations were barricaded subjects or others posing a high likelihood of violence. SRT members are trained in close quarter combat, room clearing, breaching, and other skills. SRT administration is specifically trained in operation planning and contingency management.
The goal behind SRT was to deliver a safe, effective, and efficient way to arrest fugitives and drug dealers. SRT has helped seize money, drugs, evidence, and weapons. SRT maintains a 100% safety rating with no injuries to operators or suspects.